We give you the guarantee
In the cleaning process developed by us, the soot filters are freed from any residues (soot and ash) and have the technical properties of a new filter to the greatest possible extent after cleaning. Due to our gentle, thermal-mechanical cleaning process, the filter material (ceramic and housing) is not attacked and the filters are cleaned to approx. 98%. We are so convinced of our cleaning process that we give you the following guarantees: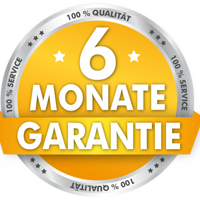 You have problems with your particle filter after the 6-month warranty period?
Then we offer you a renewed cleaning for a lump sum of 150,- Euro incl. VAT and return shipping. This special cleaning price is valid up to max. 12 months after the 1st cleaning! This warranty is a voluntary service of Barten GmbH and does not apply to the reimbursement of installation and removal costs or any consequential damage due to re-clogged soot filters.
Have you had your particulate filter removed and cleaned by one of our partner workshops? Then we'll even give you a 1-year warranty … with no IFs or BUTs!
*IMPORTANT
Despite this warranty, the particulate filter cleaned by us must be properly installed by a specialist workshop and reset in the engine control unit. The customer must provide proof of this (workshop invoice)!
01
Cleanliness guarantee
The soot filters we clean are cleaned as long and as often as necessary until they are approximately 98% free of soot and ash residues and reach the measured values of a new filter.
02
Money-back guarantee
If the filter does not reach the differential pressure required by us even after several cleaning attempts, then you do not have to pay anything for cleaning. The filter will then be returned to you as "uncleaned" and no longer usable. You only pay the shipping costs.
03
Satisfaction guarantee
We give a 6-month guarantee on our cleaning service … no IFs or BUTs!* If your filter is loaded again within this time (e.g. due to faults during resetting or defective components in the motor), we will clean it again – free of charge – for you.